"The key to getting more traffic lies in integrating great content with search engine optimization and social media marketing."
Experience. Affordability. Analysis.
Search engine optimization is vital in digital marketing and it's continuously evolving. Our team stays up-to-date with trends and developments in the SEO industry so our clients can reap the benefits. What was once considered a "best practice" may no longer be case when you hit the market. Successful search engine optimization is not a set-it-and-forget-it tool. It requires updating, testing, analysis and action -on a recurring basis!
Organic SEO is not an instant fix! Successfully optimizing a website takes work, time and patience and it could take several months before you see results if you are not participating in additional marketing activities to drive visitors to your web site. If you're looking to increase your ranking more quickly, paid advertising on Google and Bing/Yahoo search engines, plus various social media outlets is strongly recommended.
We have numerous Search Engine Optimization packages to meet your budget and goals. Our most popular (and recommended) plan includes a bundle of social media, search engine ranking activities and various web site optimization actions.
Search Engine Optimization and Social Media – a match made in marketing heaven.
In addition to SEO, social media is an important factor to improving search engine results. Having an effective presence on Facebook, Twitter, Instagram, Google My Business and YouTube can greatly increase traffic to your site, thus improving your search engine ranking. Social media marketing works because that's where your customers AND competitors are.
Our BASIC ORGANIC SEO gives you a lot of bang for your buck:
Key phrase search engine optimization
Key phrase image tags and keyword descriptions
Key phrases in meta-tags and slugs
Sitemap creation & submission to Google, Bing/Yahoo
Google My Business (GMB) optimization
Google Maps setup and/or optimization
Google Analytics setup
Search engine optimization (SEO) is the process of affecting the visibility of a website or a web page in a search engine's unpaid results—often referred to as "natural," "organic," or "earned" results.*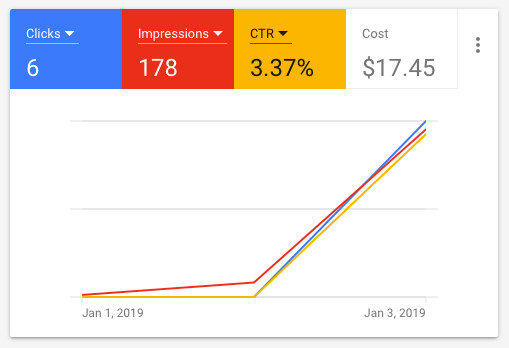 Across all industries, the average CTR* for a paid search ad is 1.91%, and 0.35% for a display ad. Check out our stats after just a couple of days for a Google search ad campaign we're running for a client in a highly competitive industry – where CTR is typically lower than average.
——-
*Click-through-rate. A clickthrough rate is how often your paid ad is viewed AND click on. A high CTR indicates high quality ad content, keywords and positioning.
*via wikipedia
As an Internet marketing strategy, SEO considers how search engines work, what people search for, the actual search terms or keywords typed into search engines and which search engines are preferred by their targeted audience. Optimizing a website may involve editing its content, HTML and associated coding to both increase its relevance to specific keywords and to remove barriers to the indexing activities of search engines. Promoting a site to increase the number of backlinks, or inbound links, is another SEO tactic. As of May 2015, mobile search has finally surpassed desktop search,[2] Google is developing and pushing mobile search as the future in all of its products and many brands are beginning to take a different approach on their internet strategies[3]